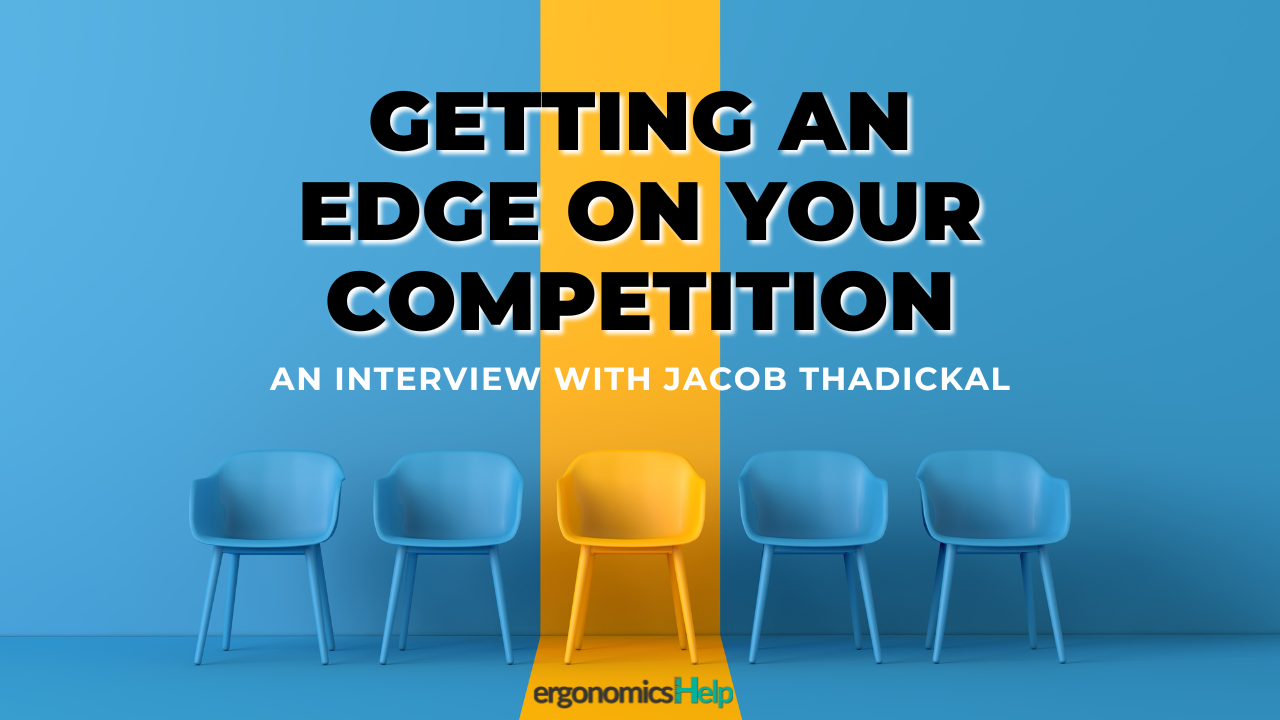 What strategies do you currently have that you think are setting yourself apart from the competition? In today's market, it becomes increasingly important for ergonomics professionals to find as many ways as possible to stand out from their competition. If you're looking for some tips on how to be an effective ergonomics business owner in a modern ergonomics marketplace, this week's episode may be just what you need!
My guest for this episode is Jacob Thadickal. Jacob is an alum of York University's Kinesiology program that applied his skills in the clinical space before moving into the insurance industry. While aiming to be as helpful as possible, he received training in Ergonomics and Functional Testing.
Key Takeaways:
→ [04:10] - Jacob has worked with employers in a myriad of industries, insurers, and local compensation boards. Learn about his background and experience.
→ [05:30] - There's an untapped potential to intervene and help people. How can people know what they need without an expert? Jacob highlights the importance of being able to convey the value of ergonomics to customers (at every level) and supplying the advice they need.
→ [13:31] - Jacob notes that adding product knowledge helps you deliver more value to your client.
→ [20:16] - Take time to research. Invest in yourself by setting aside some time for product knowledge to arm yourself with all the necessary information you need to serve clients well.
→ [25:02] - Use installation manuals. Installing equipment can be a great value-add service to your clients.
→ [33:20] - What you need to know about Procurement Procedures.
→ [41:06] - Jacob's advice on how to land your first sale
Check out the full episode here to discover Jacob's tips that you can use to start gaining an advantage over your competition.
What's Next?
Not sure where to begin or how to accelerate your current ergo consulting biz? Accelerate is a time-saving program geared toward Ergonomics Service Providers. With Accelerate, you get content that's either going to help you enhance your professional expertise and ensure you have a fully booked calendar. Sign up here to learn more.
If you're keen to get started today in learning about office ergonomics assessments and what you need to do at each step, then jump into this FREE Training.